Facial Reflexology - to improve your Health & Wellbeing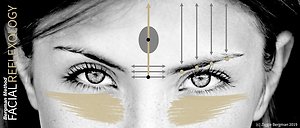 …"The deep relaxation, calm and positive sensations I achieved over the course of the treatments have been a very welcome and much needed change, and by the 3rd treatment I felt elated afterwards." A.S.
Facial Reflexology is based on the same principles as conventional foot reflexology and has all the same benefits, plus more!
Its effects can be felt faster, owing to the close proximity of the face to the brain and cranial nerves.

As Facial Reflexologists, we believe there is a mapping system of the whole body reflected in the face and by stimulating a sequence of points we bring the body into balance and fire up the bodies own healing mechanisms.

I trained at the London School of Reflexology with Ziggie Bergman, award-winning 'Facial Reflexologist to the stars'. I have also trained with Ziggie in the art of Facial cupping which can be added on to any Facial Reflexology or Foot Reflexology treatment. More details further down this page.

Ziggie explains:

"Our method of facial reflexology is built on a combination of Native American techniques and Asian body maps that chart the reflex points on the face. The face's proximity to the brain is key to the effectiveness of manipulating facial reflex points which directly connect to the body's neuro-pathways. Facial reflexology can be a wonderful therapy to help identify reflexes out of balance and to help your clients improve their health and well-being."

I use luxurious hot towels and luxurious, completely natural Zone Face Lift products. As an added benefit to the treatment session, the face will feel and look smoother and more toned as circulation is increased and muscle tension released. Some clients call it their 'mini Face-lift' by helping to strengthen layers of skin tissue and improve skin tone. Additionally, over a series of sessions there may be a reduction in lines and wrinkles, helping clients to feel good and look good! This is in addition to stimulating the body's healing mechanisms and encouraging the body to eliminate toxins.

Please Click here to visit the main Zone Face Lift website
Facial cupping
What is facial cupping?
It's a complementary therapy that uses soft suction cups which glide over your skin to stimulate skin and muscles. It has both therapeutic & anti-aging benefits.
What does it do?
The suction works to gently lift the facial tissue. This promotes increased blood circulation as well as stimulating lymphatic drainage. As new blood flow is encouraged, healthier looking, oxygenated skin will usually result in a glowing complexion. It is used to reduce puffiness under the eyes, sculpt the neck and jawline and encourage production of collagen and elastin.
Does it hurt?
No. Most clients find it very soothing and relaxing.
Will I have any marks or bruising on my skin?
No. Unlike body cupping or extractions or peels, you will usually be able to walk out looking radiant.
What are the therapeutic benefits?
It is helpful for a range of ailments relating to head & neck:
Lymphatic drainage
Sinus problems
Headaches & migraines
Facial paralysis
Earaches
Teeth grinding
What are the anti-aging benefits?
Reduce lines and wrinkles
Firm & tone skin and muscle
Help reduce puffy eyes
Sculpt neck and jawline
Increase blood circulation

I have started facial cupping on myself and, after just 2 sequences, I no longer feel the need to wear any foundation. I'm thrilled. My skin is radiant and more toned and a saggy area on my cheek has completely disappeared!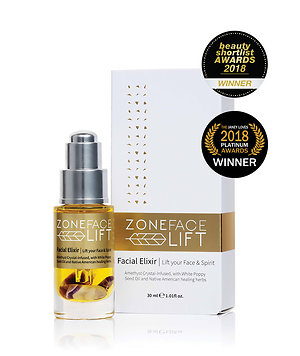 Zone Face Lift crystal- infused Facial Elixir
This ground-breaking crystal infused elixir nourishes the skin and is incredibly balancing and therapeutic.

"I set out to create a Facial Reflexology product that harnessed the magical & medicinal properties of Native American sacred plants to renew the skin and lift the spirit. An amethyst crystal is placed in every bottle infusing the velvety white poppy seed, prickly pear and peach oils with a crystal vibration which complements an exquisitely scented blend of essential oils including white sage, rose and Ylang Ylang. " Ziggie Bergman


The Elixir is Vegan Friendly and has never been tested on animals. It's 100% organic and natural and hand made in the UK.

I would LOVE to hear from you.
Please get in touch to book an appointment or if you have any questions.
Please click here
for my
email contact form.

Or call me on 07825 988730